Government of Pakistan, Ministry of Housing and Works, Notification / OM No. F4(8)92-Policy dated 28/09/2021
The Federal Government enhance rental ceiling for hiring of residential accommodation in Federal Ministries/Divisions/Attached Department/Subordinate Offices at Islamabad and other specified stations i.e. Rawalpindi, Karachi, Lahore, Quetta and Peshawar as under wef. 01-07-2021.
2. The enhanced rental ceilings come into force with effect from 0-07-2021 and will apply to:-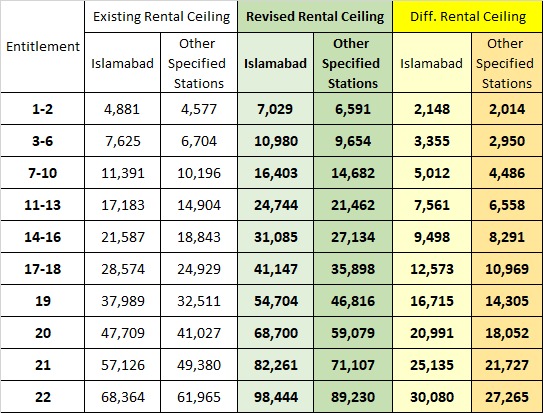 The above rental ceiling may also be applied, mutatis-mutadis, in case of requisitioned house otherwise qualifying for increase in rent/compensation in accordance with the relevant rules/instructions.
In all other cases of hired houses except in cases where additions/alterations have been made with the prior permission of the Government, the benefit of revised rental ceilings will be permissible only on the expiry of the current lease agreement.
The existing instructions issued on the subject from time to time will remain force with the above modifications.
All the Ministries/ Divisions/ Attached Department/Subordinate offices will meet the increased expenditure out of their respective budgetary allocations and no additional funds and no additional funds will be allowed to them for this purpose during the financial year (2021-2022).