Government of Pakistan, Ministry of Defence, (Defence Division) Notification No. 8/2/D-7(MAG)/2012 dated 25-07-2014
Consequent upon verdict of the FST Islamabad in Appeals No. 1459-1461(R)/2011 conveyed through their Judgment dated 08-05-2012, Establishment Division's concurrence conveyed vide their O.M. No. 8/56/2008-R.1 dated 11th March,2014 and Finance Division's concurrence conveyed vide their O.M. No.2(1)R-2/2014- 598 dated 9th June, 2014, the Secretary, Ministry of Defence, has been pleased to upgrade / re-designate two posts of System Analyst (BPS-18) to Joint Director (BPS-19), in Pakistan Military Accounts Department, alongwith incumbents, in terms of authority vested with him vide Schedule-3, Serial No.15, Rules of Business, 1973; with immediate effect, subject to the following conditions:-
Amendment in the Recruitment Rules;
Filling up / Appointment to the upgraded posts in the prescribed manner as per Establishment Division's D.O. letter dated 31.12.2008.
---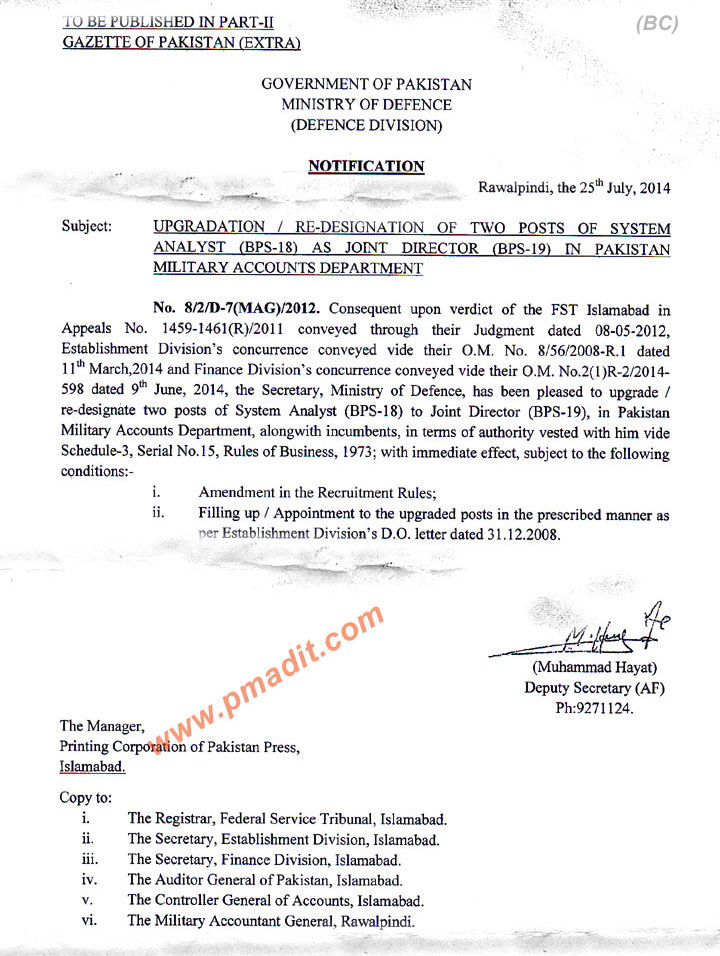 ---
After Government of Pakistan, Ministry of Defence, (Defence Division) Notification  No. 8/2/D-7(MAG)/2012 Dated: 25-07-2014, Pakistan Military Accounts Department, Military Accountant General Office issued the letter No. 598/AN/CON/84-Part Case-II dated 26th August, 2014 for up-gradation / re-designation of Two System Analyst (BPS-18) to BPS-19 as Joint Director. As per MAG's Office letter dated 26-08-2014. Further necessary action in the matter CMA (LC) Lahore and CMA (RC) Rawalpindi, may please be taken accordingly and copy of office order notifying the casualty may be furnished to this office for our further action.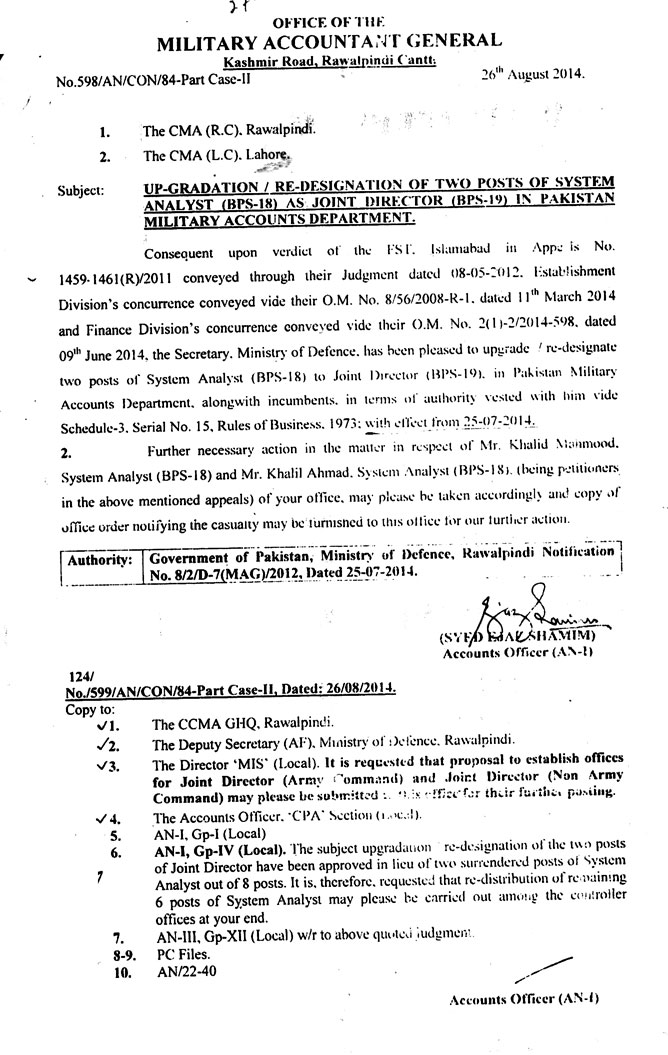 Read FST Judgment of above mentioned up-gradation / redesignation>