No. 4001(R)CS/2017 with MP No. 454/2019
Case filed by Mr. Akbar Ali PS (B-17) M/o Foreign Affairs VS Foreign Secretary, M/o Foreign Affairs Islamabad (Mst Bushra Bibi, Widow of Akbar Ali (Appellant) in person)
Before Qazi Khalid Ali, Chairman & Raja Hasan Abbas, Memeber FST
AS PER JUDGMENT
The instant appeal was filed seeking a direction to the respondents to consider him for promotion to BS-18 in terms of O.M of Establishment Division No. 1/9//80-R-2, dated 02-June-1983.
It is obvious that service in BS-16 and below would be counted as per given formula as part of service in BS-17 for the purpose of promotion. There is no restriction that counting of such service will be available only in a particular grade. Assertion of the Finance Division that in case of "Private Secretaries" the provisions of O.M> of 1983 are applicable for promotion to BS-19 only is not well founded. Para-I of the O.M. of Finance Division dated 23rd December 2011 has to be read in conjuction with the O.M. of Establishment Division dated 02-June-1983.
"We therefore agree with the contentions of the appellant, the appeal is accepted" The deceased appellant be considered for granting BS-18 from the date he completed five year service in BS-17 in accordance with the formula given in the O.M. Establishment Division of 1983, if he otherwise fulfilled the requisite conditions. The appeal is disposed of accordingly.
Special Thanks to Syed Faiz Ali Shah sb. to providing the helpful judgment.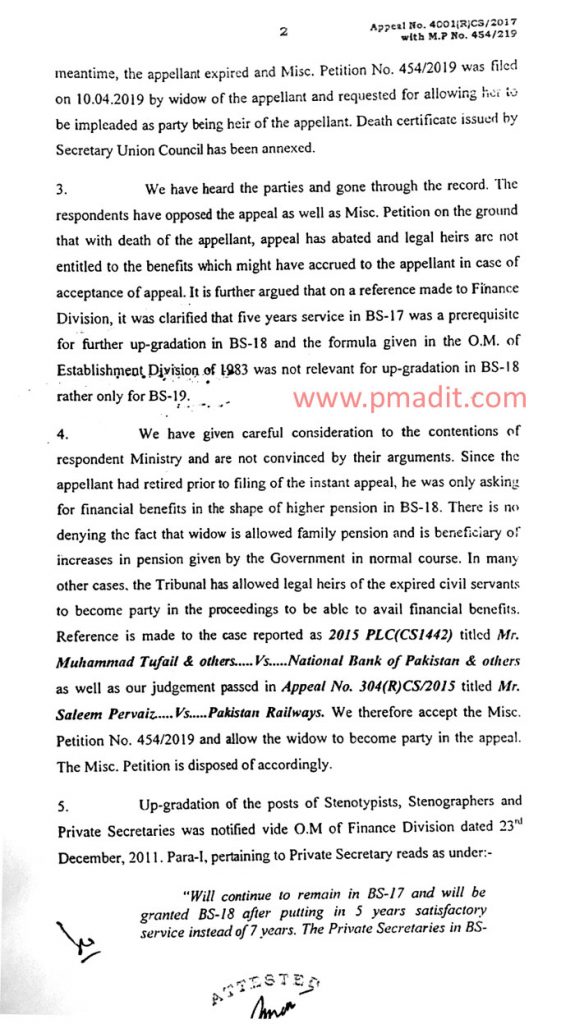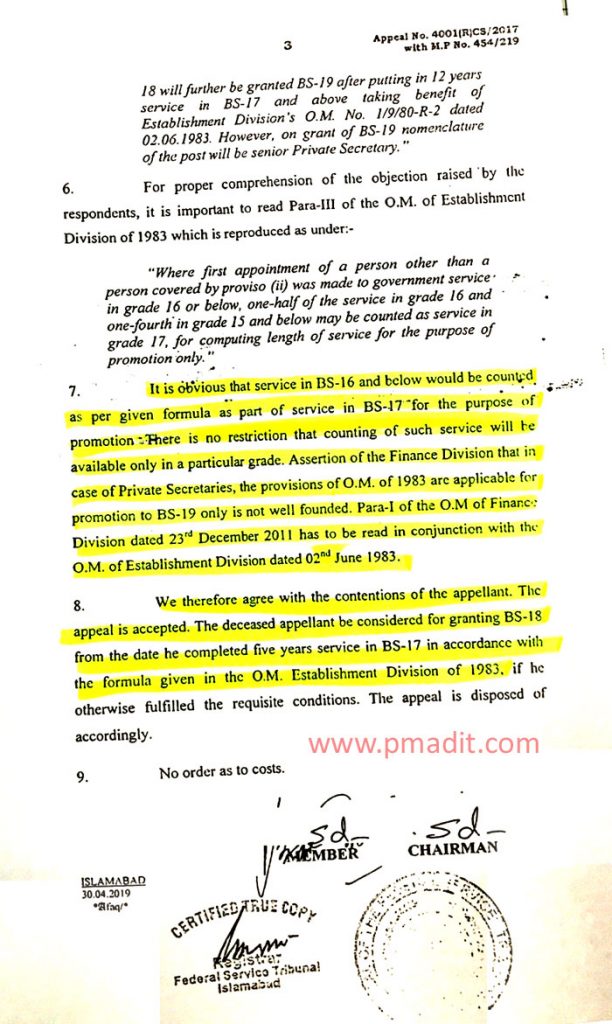 Appeal