Grant of 50% Risk Allowance


to the Employees of Pakistan Military Accounts Department

Case in PHC

Hon'able Peshawar High Court's dismissed the Contempt Petitions to be further proceeded, Judgment issued.
Contempt of Court / Implementation of PHC Judgment dated 18-06-2013:
'Grant of Remaining 50% (Risk) Allowance to the PMAD Employees: Case filed by Mr. Abdul Ghafoor etc W.P# 2238-P/2010, Sabir Hussain Afridi W.P# 2238-P/2010, Mr. Ajab Khan etc W.P# 2928-P/2012 & Hamayun Khan etc W.P# 2073-P/2013,


Supreme Court

GRANT OF REMAINING 50% (RISK) ALLOWANC::

CASE IN SUPREME COURT OF PAKISTAN


Finance Division filed the Appeal against PHC judgment 'Grant of Remaining 50% (Risk) Allowance to the PMAD Employees:: CASE IN BENCH - II Before MR. JUSTICE EJAZ AFZAL KHAN, MR. JUSTICE MUSHIR ALAM & MR. JUSTICE DOST MUHAMMAD KHAN:: Supreme Court rejected the Finance Division Appeal against 50% Risk Allowance

Grant of Remaining 50% (Risk) Allowance' to PMAD Employees


Case filed by Mr. Abdul Ghafoor etc W.P# 2238-P/2010, Sabir Hussain Afridi W.P# 2238-P/2010, Ajab Khan etc W.P# 2928-P/2012 & Hamayun Khan etc W.P# 2073-P/2013

Peshawar High Court has been issued the Judgment on Contempt of Court Case

:: COC.No. 02-P/2014 in WP 2928/2012, Ajab Khan & others (CMA-PC Employees Petition):: COC2&7/2014 (CAAF Employees Petition) Last Hearing on 16-12-2014

Peshawar High Court, Peshawar issued the Judgment regarding 'Grant of Remaining 50% (Risk) Allowance' to PMAD Employees
Writ Petition No. 2928/2012:: Laste Date of Hearing: 18-06-2013
Petitioners Ajab Khan & Others by Abdul Lateef Afridi Advocate & Abdul Ghafoor & Others

QUICK LINKS
Contempt of Court final hearing on 11-Dec.2014, heared by Mr. Justice Yahya Afridi & Mr. Justice Ms Mussrat Hilali and issued the judgment on 16-December, 2014
COC.No. 07-P/2014
(CAAF, Employees Petition)

COC.No. 02-P/2014 Ajab Khan & others (CMA-PC Employees)

Main Judgment in WP 2928/2012
Contempt of Court / Implementation of PHC Judgment dated 18-06-2013


GRANT OF REMAINING 50% (RISK) ALLOWANCE


Case filed by Mr. Ajab Khan etc COC.2/2014 in W.P# 2928-P/2012, Mr. Abdul Ghafoor etc COC.7/2014 in W.P# 2238-P/2010, Sabir Hussain Afridi (interim Relief) W.P# 2238-P/2010 & Hamayun Khan etc CoC 87/2014 in W.P# 2073-P/2013,

Case disposed off in Peshawar High Court

Order Issued on CoC Petition

On 17-03-2016, Hon'able Court issued the order on Contempt petition.

پشاور ہائی کورٹ نے پچاس فیصد رسک الاؤنس کے توہین عدالت کے مقدمے کا فیصلہ جاری کردیا ہے۔ جس کے مطابق توہین عدالت کی درخواست مزید سماعت کے لئے نامنظور کرتے ہوئے خارج کردیا۔ یہاں یہ امر بڑا عجیب ہے کہ اسی عدالت نے ۲۰۱۳ میں اپنے فیصلے میں وزارت خزانہ اور وزارت دفاع کو ہدایت کی تھی کہ پٹیشنرز کو مروجہ قانون کے مطابق جس طرح دوسروں کو یہ مراعات دی گئی ہیں ان کو بھی دی جائیں۔ چنانچہ عدالتی فیصلے پر عملدرآمد نہ ہونے کی وجہ سے ملازمین نے دوبارہ عدالت عالیہ میں توہین عدالت کا مقدمہ دائر کیا۔ مگر عدالت نے ملازمین کی اس درخواست کو ناقابل ِ سماعت قرار دیتے ہوئے خارج کردیا۔

THE ESSENCE OF THE JUDGMENT
Resultantly, when the order of this Court has been complied with by the respondents in letter and spirit, these petitions are not surviable to be further proceeded with, hence stands dismissed. This notices issued to respondents are hereby recalled, however the petitioners are at liberty to voice their grievances before the proper forum, if so advised.








ALL HEARING DETAILS

Contempt of Court / Implementation of PHC Judgment dated 18-06-2013
GRANT OF REMAINING 50% (RISK) ALLOWANCE
Case filed by Mr. Ajab Khan etc COC.2/2014 in W.P# 2928-P/2012, Mr. Abdul Ghafoor etc COC.7/2014 in W.P# 2238-P/2010, Sabir Hussain Afridi (interim Relief) W.P# 2238-P/2010 & Hamayun Khan etc CoC 87/2014 in W.P# 2073-P/2013,

Last Hearing in Peshawar High Court

On 17-03-2016, Hon'able Court Reserved the order on Contemp/Implementation petition and Order may be released in next week. Insha'Allah. Hon'able Court already issued the judgment on 18/06/2013 in favour of PMAD Employees.

عدالت عالیہ پشاور کے جسٹس یحیٰی آفریدی اور جسٹس روح الامین نے وزارت خزانہ کی تمام وضاحتوں کو مسترد کرتے ہوئے کہا کہ فیصلہ تو ہم پہلے ہی دے چکے ہیں۔ اب آپ اس فیصلے پر عملدرآمد کو یقینی بنائیں۔ تحریری فیصلہ جسٹس روح الامین چند روز میں جاری کردیں گے۔

Hearing in Peshawar High Court

On 16-03-2016, Case adjourned due to rush of court cases and relist for 17-03-2016.

Hearing in Peshawar High Court

On 09-03-2016, Case once again adjourned due to laywers strike. And case fix for next date hearing on 16-03-2016.

Hearing in Peshawar High Court

Early hearing application submit by the petitioners. Hon'able High Court fixed the date of hearing on
03-03-2016. On this hearing 3-3-2016, Case again adjourned due to absent of Deputy Attorney General and court fixed the next date of hearing on 09-03-2016.

Hearing in Peshawar High Court

On 26-01-2016Contempt of Court cases not enlisted for hearing due to Hon'able .Justice Yahya Afridi on leave. Next date of hearing will be issued by Registrar Office.

پچاس فیصد رسک الاؤنس کے حوالے چھبیس جنوری کو کیس کی سماعت نہ ہوسکی۔ کیونکہ جس ڈویژن بنچ نے اس کیس کی سماعت کرنی تھی اُس کے جج صاحب اچانک چھٹی پر چلے گئے۔ اب دوبارہ کیس کی سماعت کی تاریخ رجسٹرار آفس سے جاری ہوگی۔

Hearing in Peshawar High Court

On 19-01-2015 Contempt of Court cases heared in 1st DB Before Mr.Justice Yahya Afridi & Mr.JusticeMr. Justice Rooh-ul-Amin Khan. The order sheet of Supreme Court of Pakistan has been received and submit before Hon'able court. Therefore the Dy.Attorney General requested for grant of one week time for consultation the matter with high officials. Hon'bale Court fixed the next hearing on 26/01/2016.

گذشتہ روز پشاور ہائی کورٹ کے ڈویژن بنچ نے پچاس فیصد بقیہ رسک الاؤنس کیس کی سماعت کی۔ سپریم کورٹ میں وزارت خزانہ کی اس فیصلے کے خلاف اپیل خارج ہوگئی تھی اُس کی عدالتی شیٹ عدالت عالیہ پشاور میں پیش کردی گئ ہے۔ جس پر ڈپٹی اٹارنی جنرل اور وزارت خزانہ نے ایک ہفتے کی مزید مہلت طلب کرلی ہے تاکہ وہ اپنے اعلی حکام سے اس رسک الاونس کے متعلق مشاورت کرسکیں۔ جس پر عدالت نے اُنہی ایک ہفتے کے وقت دیتے ہوئے اگلی سماعت اسی مہینے یعنی جنوری کی ۲۶ تاریخ مقرر کردی ہے۔

Hearing in Peshawar High Court

On 13-01-2015 Contempt of Court cases heared in 1st DB Before Mr.Justice Yahya Afridi & Mr.JusticeMr. Justice Rooh-ul-Amin Khan. The case was again adjourned due to non issuance of Supreme Court's order and Hon'bale Court fixed the next hearing on 19/01/2016.

تیرہ جنوری۲۰۱۶ کو عدالت عالیہ پشاور میں پچاس فیصد رسک الاؤنس کے توہین عدالت مقدمے کی سماعت جسٹس یحییٰ آفریدی اور جسٹس روح الامین خان کی پہلی ڈویژن بنچ عدالت میں ہوئی۔ ڈپٹی اٹارنی جنرل اور وزارت خزانہ کی نمائندگان نے عدالت کو بتایا کہ سپریم کورٹ آف پاکستان میں اس کیس کی جو سماعت ہوئی تھی اُس کی آرڈر شیٹ ابھی جاری نہیں ہوئی جس پر عدالت کے معزز جج صاحبان نے کیس کی سماعت ملتوی کرتے ہوئے اگلی پیشی انیس جنوری۲۰۱۶ء مقرر کردی ہے۔

Hearing in Peshawar High Court

On 17-12-2015 Contempt of Court cases heared in 1st DB Before Mr.Justice Yahya Afridi & Mr.JusticeMr. Justice Rooh-ul-Amin Khan. The case was adjourned due to non issuance of Supreme Court's order and Hon'bale Court fixed the next hearing on 13/01/2016.

سترہ دسمبر ۲۰۱۵ کو عدالت عالیہ پشاور میں پچاس فیصد رسک الاؤنس کے توہین عدالت مقدمے کی سماعت جسٹس یحییٰ آفریدی اور جسٹس روح الامین خان کی پہلی ڈویژن بنچ عدالت میں ہوئی۔ ڈپٹی اٹارنی جنرل اور وزارت خزانہ کی نمائندگان نے عدالت کو بتایا کہ سپریم کورٹ آف پاکستان میں اس کیس کی جو سماعت ہوئی تھی اُس کی آرڈر شیٹ ابھی جاری نہیں ہوئی جس پر عدالت کے معزز جج صاحبان نے کیس کی سماعت ملتوی کرتے ہوئے آئندہ پیشی جنوری کے دوسرے ہفتے میں تیرہ تاریخ مقرر کردی ہے۔
لہذا اگلی پیشی تیرہ جنوری۲۰۱۶ء کو ہوگی۔

Hearing in Peshawar High Court

On 03-12-2015 Contempt of Court cases heared in 1st DB Before Mr.Justice Yahya Afridi & Mr.JusticeMr. Justice Rooh-ul-Amin Khan. The Hon'bale Court ordered for submitting the O.M within 2 weeks and next date of hearing fixed on 17-12-2015.

تین دسمبر ۲۰۱۵ کو عدالت عالیہ پشاور میں پچاس فیصد رسک الاؤنس کے توہین عدالت مقدمے کی سماعت جسٹس یحییٰ آفریدی اور جسٹس روح الامین خان کی پہلی ڈویژن بنچ عدالت میں ہوئی۔ ڈپٹی اٹارنی جنرل اور وزارت خزانہ کی نمائندگان نے عدالت سے درخواست کی سپریم کورٹ کے آرڈر کی وضاحت آ جائے جس پر معزز جج صاحبان نے برہمی کا اظہار کرتے ہوئے ریمارکس پیش کئے کہ دو ہفتوں کے اندر اندر عدالت عالیہ پشاور کے فیصلے پر عملدرآمد کو یقینی بنایا جائے اور الاؤنس کا آرڈر عدالت میں آئندہ سماعت تک پیش کیا جائے۔ اگلی پیشی سترہ دسمبر ۲۰۱۵ء کو مقرر کر دی گئی ہے۔

Hearing in Supreme Court of Pakistan

Finance Division filed the Appeal against PHC judgment 'Grant of Remaining 50% (Risk) Allowance to PMAD Employees Case filed by Dr Waqar Masood (Secy Fin) Vs Ajab Khan, Abdul Ghafoor & Hamayun Khan and others (Case No. Crl.M.A.1046/2015 in Crl.A.366/2015(Impleadment)(D.B.) & Crl.A.366/2015 (Contempt ofCourt Matters)(D.B.)(Ch.O.) & Crl.A.472/2015 (D.B.) & Crl.A.473/2015 COC (D.B.)

On

23-11-2015

" The Hon'able Supreme Court of Pakistan has rejected the Appeal of Finance Division/Govt of Pakistan and passing the remarks to implement the judgment of Pehsawar High Court.".

سپریم کورٹ آف پاکستان نے ملٹری اکاؤنٹس پشاور کے ملازمین کو پچاس فیصد بقایا رسک الاؤنس کی منظوری کے پشاور ہائی کورٹ کے فیصلے کو وزارت خزانہ نے سپریم کورٹ میں چیلینج کیا تھا۔ جس کی گذشتہ روز سماعت پر فاضل عدالت نے ججز جسٹس اعجاز افضل خانِ جسٹس مشاہر عالم اور جسٹر دوست محمد خان پر مشتمل تین رکن بنچ نے وزارت خزانہ کی اپیل کو مسترد کردیا اور ریمارکس پاس کرتے ہوئے کہا کہ پشاور ہائی کورٹ کا فیصلہ بحال رکھا۔ اب تین دسمبر کو پشاور ہائئ کورٹ میں توہین عدالت اور فیصلے پر عملدرآمد کے کیس کی سماعت ہوگی۔ توقع ہے کہ اب فنانس ڈویژن اس معاملے کو سنجیدہ لیتے ہوئے اس کا کوئی نہ کوئی حل ضرور نکالے گی۔ تمام ملازمین کو اس فیصلے سے بہت خوشی ہوئی ہے۔
سوال یہ ہے کہ کیا اب ملازمین کو فوری طور پر رقم کی ادائیگی ہوگی یا ابھی کچھ مزید وقت لگے ہے۔۔ ۔۔۔۔ اس کا جواب ماہرین یہ دیتے ہیں کہ پشاور ہائی کورٹ میں چلنے والے کیس کے بعد وزارت خزانہ اس الاؤنس کی وزیراعظم سے منظوری لے گی اور پھر اس پر عمل درآمد ہوگا۔ ابھی مزید وقت لگنے کا امکان ہے۔ بہرحال مایوسی نہیں ہے۔ اللہ کی رحمت سے کبھی مایوس بھ

Hearing in Peshawar High Court

On 12-11-2015 COC cases heared in 2nd DB Before Mr.Justice Yahya Afridi & Mr.JusticeMr. Justice Rooh-ul-Amin Khan. Hon'able Peshawr High Court adjourned and fixed the case for 03-12-2015. The Deputy Attorney General & Rep of Finance Division told the court that CPLA already filed in Supreme Court of Pakistan and next hearing date is 23rd-Nov-2015 in Apex Court.

بارہ نومبر کو پشاور ہائی کورٹ کے ڈویژن بنچ میں پچاس فیصد رسک الاؤنس کیس کی سماعت ہوئی، ڈپٹی اٹارنی جنرل اور فنانس ڈویژن اسلام آباد کے نمائندے کے معزز عدالت کو بتایا کہ یہ کیس وزارت خزانہ اور وزارت دفاع کی طرف سپریم کورٹ آف پاکستان میں زیرسماعت ہے۔ جس کی آئندہ پیشی ۲۳ نومبر ہے۔ براہ کرم عدالت عظمی کی سماعت کے بعد اس کی سماعت کی جائے۔ جس پر فاضل عدالت نے کیس کو تین دسمبر کے لئے فکس کردیا۔

Hearing in Peshawar High Court

On 12-11-2015 COC cases heared in 2nd DB Before Mr.Justice Yahya Afridi & Mr.JusticeMr. Justice Rooh-ul-Amin Khan. Hon'able Peshawr High Court adjourned and fixed the case for 03-12-2015. The Deputy Attorney General & Rep of Finance Division told the court that CPLA already filed in Supreme Court of Pakistan and next hearing date is 23rd-Nov-2015 in Apex Court.

Hearing in Peshawar High Court

On 11-03-2015 case heared in 2nd DB Before Mr.Justice Yahya Afridi & Mr.Justice Muhammad Daud Khan. Hon'able Peshawr High Court dismissed the review petition of Finance Division as per Mr. Fida Khan, Peshawar PMAD Association Rep. The Court's Order is expected in the next few days.

پشاور ایمپلائز ایسوسی ایشن کے نمائندے کے مطابق ڈویژن بنچ کے ججز نے فنانس ڈویژن کی نظرثانی کی درخواست خارج کردی ہے۔ اس سماعت پر کورٹ کی طرف سے جلد تحریری حکم نامہ جاری ہونے کی توقع ہ
Grant of Remining 50% (Risk) Allowance


to the Employees of Military Accounts

Peshawar High Court has been issued the Judgment on
Contempt of Court Case
16/12/2014 :: Judgment issued
As such, the reasons furnished for non-complaince are far from plausible and sustainable in view of the Judgment of the Apex Court, referred to above. Resultantly, the respondents are granted further time of one month to comply with the directors contained in the judgment/order of this Court dated 18-06-2013. The office is directed to fix the case after aforementioned period.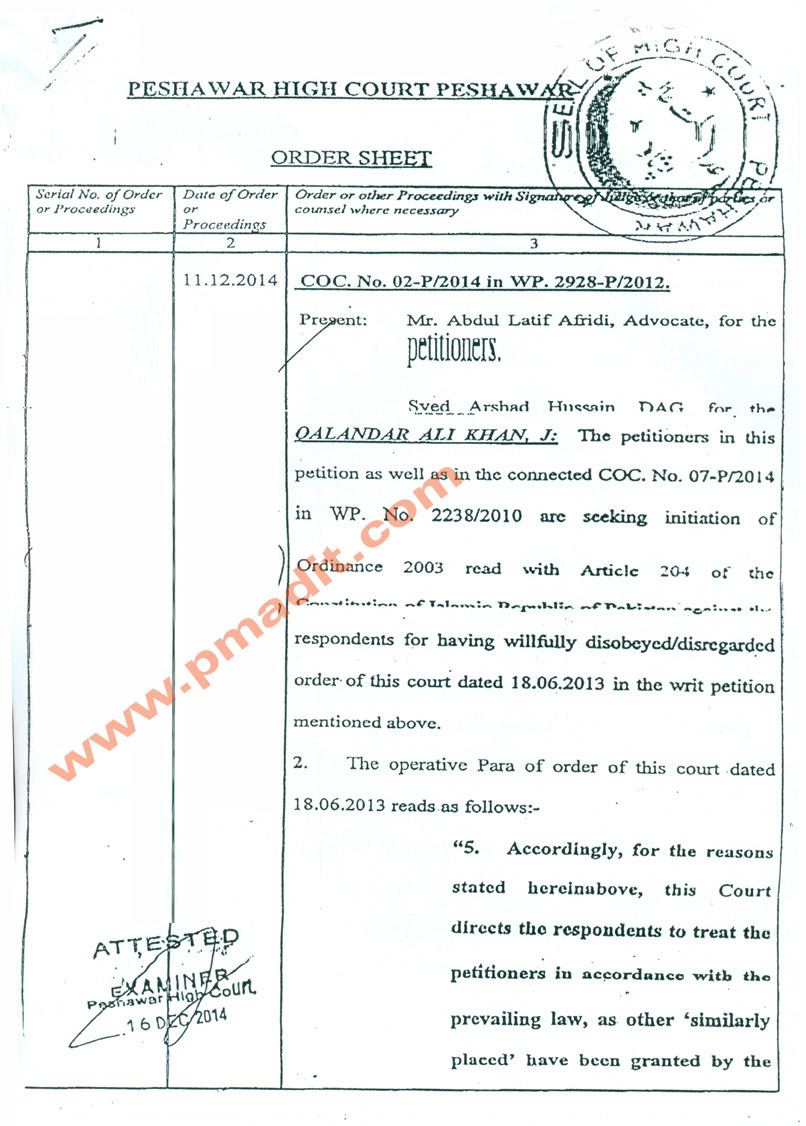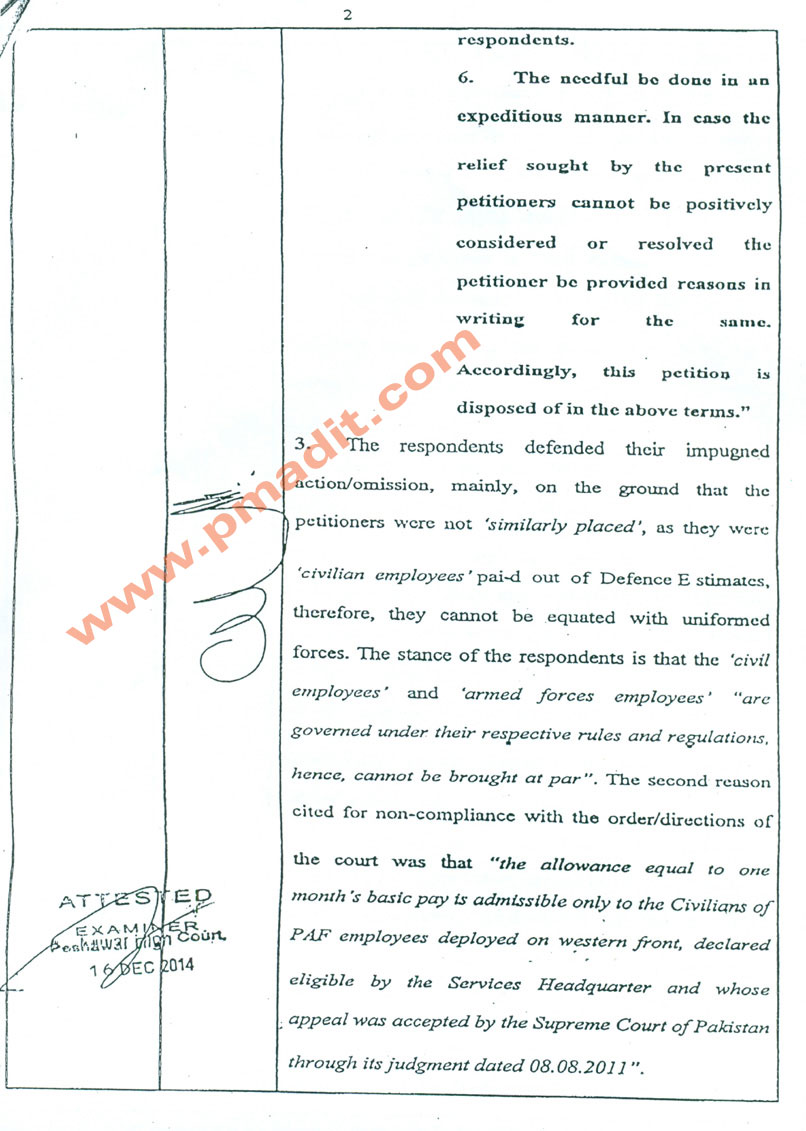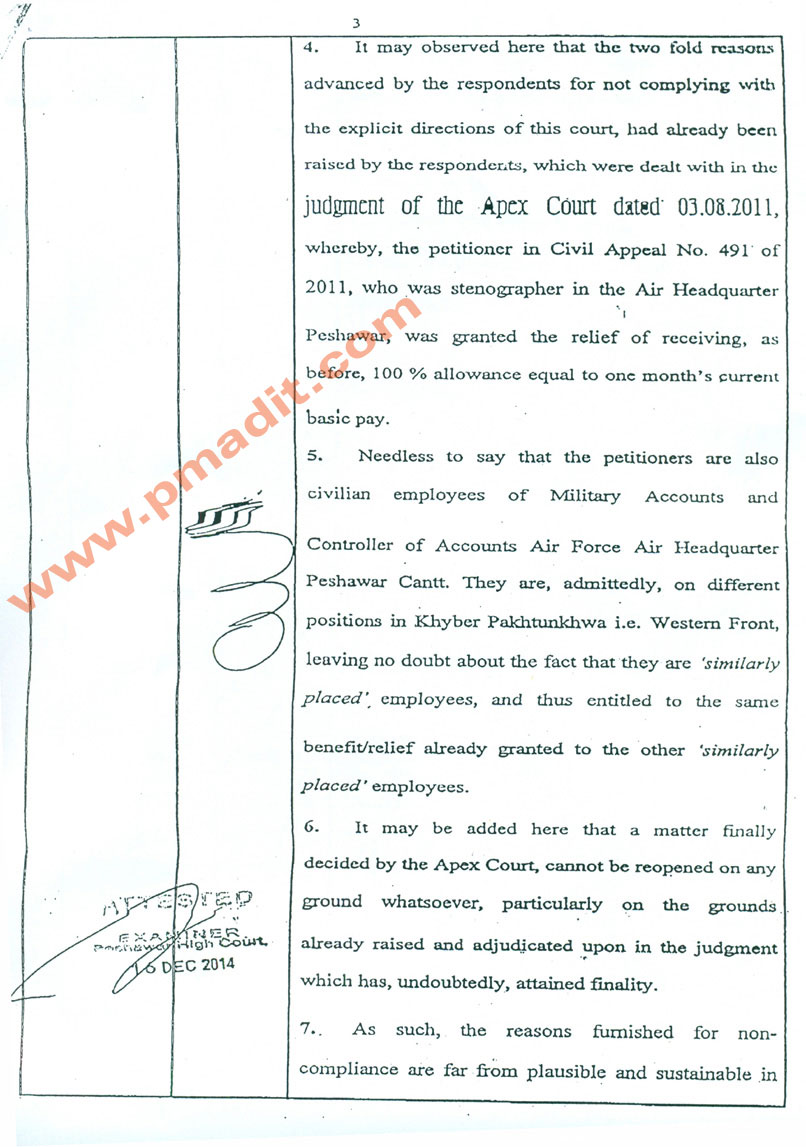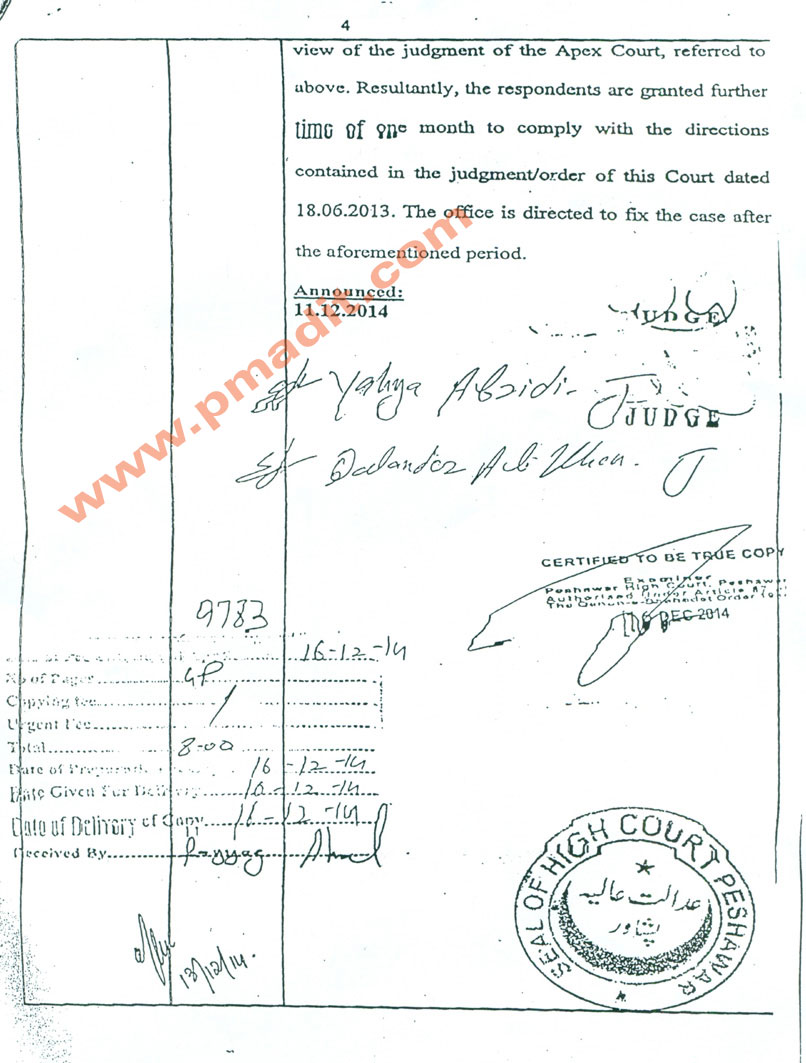 Peshawar High Court Peshawar


Court Order


in COC.No. 07-P/2014 in WP 2238/2010 (CAAF, Employees Petition)
Download Complete COC2&7/2014 Judgment in PDF Format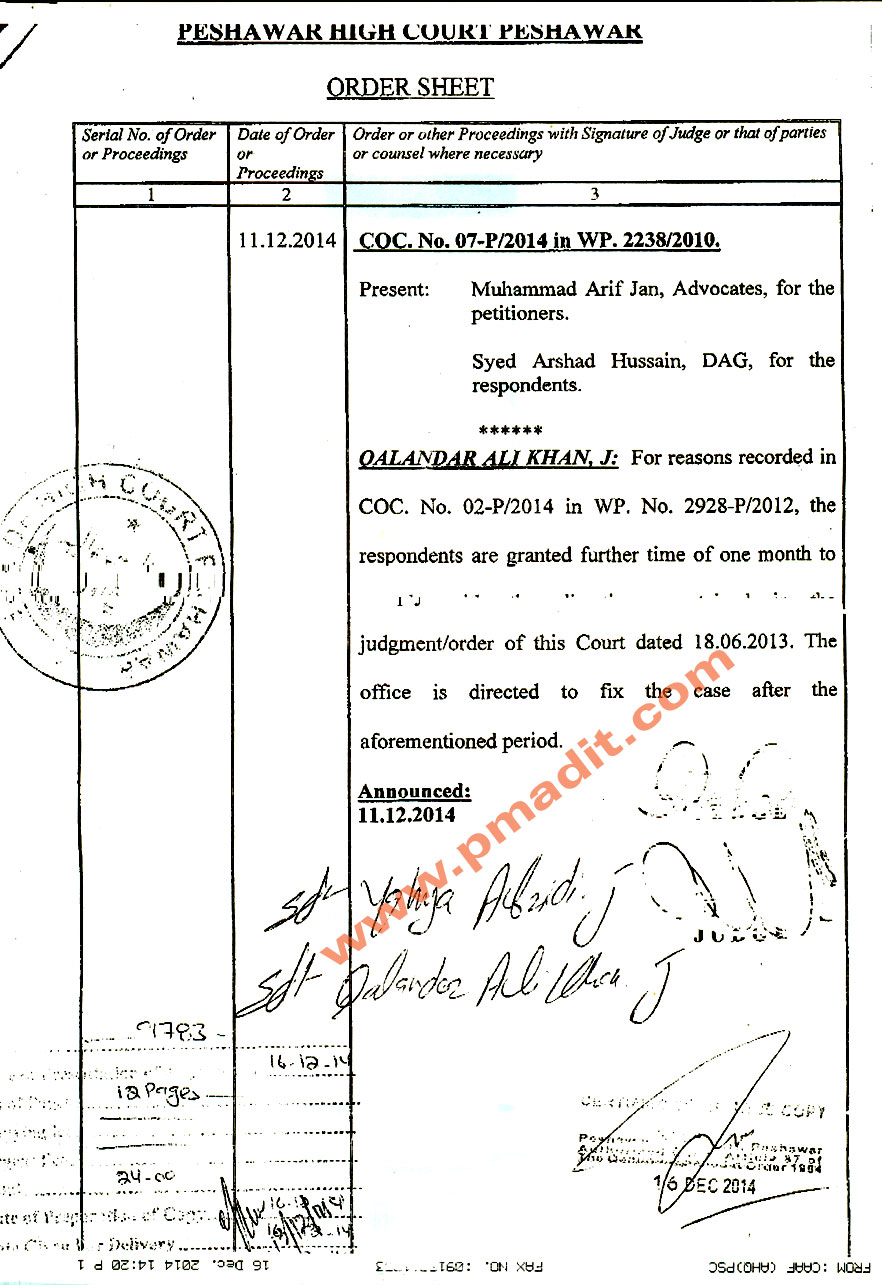 .

Download Download Complete Judgment in wp-2928/2012 dated 18-06-2013 as PDF Format»
Judgment Peshawar High Court, Peshawar Judicial Department in
Writ Petition No. 2928/2012
Date of Hearing: 18-06-2013


Petitioners Ajab Khan & Others by Abdul Lateef Afridi Advocate

Contempt of Court Case No. COC.2/2014 in WP 2928/2012
Ajab Khan (Pakistan Military Accounts Department, Peshawar Command, Peshawar) & others (Abdul Lateef Afridi Advocate for petitioners)

Vs
Mr. Asif Yaseen Malik, Secretary Defence Federation of Pakistan

Grant of 50% remaining (Risk) Allowance :: Court Judgment
That the petitioners are serving in Pakistan Military Accounts Department as civilian state employees on difference jobs in different parts of Khyber Pakhtunkhwa in BPS 1-4, BPS 11-12, 16., 17, 18 & BPS-20 that the Government of Pakistan Finance Division (Regularlations Wing) Vide office Memorandum No. F.1 (7) imp/2009-11 dated 21-07-2009 allowed an allowance equal to one month basic pay to the personnel of all Armed Forces stationed on the western from 1st July, 2009; Wherein the ad-hoc relief announced in the said notification was allowed to all Armed Forces personnel except the petitioners. Hence, these writ petitions.

Accordingly, for the reasons stated hereinabove, this Court directs the respondents to treat the petitioners in accordance with the prevailing law, as others 'similarly placed' have been granted by the respondents.
"The needful be done in an expeditious manner. In case the relief sought by the present petitioners cannot be petitioner be provided reasons in writing for the same."