Before Mr. Justice Faqir Muhammad Khokhar,
Mr. Justice Javed Buttar, Mr. Justice Mohammad Qasim Jan Khan
Date of Hearing: 25.08.2008 in Supreme Court of Pakistan
Case History / Judgment
The petitioner and the respondent No. 3 (Azmatullah) were selected by the Selection Committee and were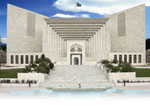 appointment as Auditor (BPS-11) in Local Fund Audit Department, NWFP. However, respondent No. 3 could not assume the charge of the post as sanction of relaxtion in age limit was awaited. Therefore, he joined his duties ten days later than the petitioner. Initially the petitioner was shown senior to the respondent No. 3 in teh seniority lists.
However, the seniority dispute as resolved by the departmental authorties in favour of the respondent No. 3 who was found senior to the petitioner both in order of merit and age. In the final seniority list as it stood on 31.12.1995, the respondent No. 3 as shown at serial No. 33 and the petitioner next below him. The petitioner, therefore filed appeal No. 224 of 1996 which was dismissed by the NWFP Service Tribunal. The case was earlier remanded by this Court. The Tribunal, by impugned judgment dated 28.2.2007, dismissed the service appeal of the petitioners. Hence, this petition for leave to appeal.
2. The learned counsel vehemently argued that the petitioner and respondent No. 3 (Azmatullah) were selected from Zones 1 and 2 respectively. Moreover, the petitioner had joined the duties in the department earlier than the respondent No. 3. Therefore, in terms of sub-rules (b) of rule 17 of the NWFP Civil Servants (APT) Rules, 1989, the seniority of the both parties was required to be determined with reference to the date of 'regular appointment' to the post and the respondent No. 3 could not be declared to be senior to the petitioner by any stretch of imagination.
3. The petitioner as well as the respondent No. 3 (AzmatUllah) were selected and appointed in the same batch. Admittedly, the respondent No.3 is older in age than the petitioner. The mere fact that the petitioner assumed the duties earlier would not adversely affect the seniority position of the respondent No.3. The impugned judgment of the Tribunal is plainly correct to which no exception can be take. Moreover, no quest of public importance is invovled as contemplated in Article 212(3) of the Constitution of Islamic Republic of Pakistan so as to warrant interference by this Court.
4. for the foregoing reasons, we don find any merit in this petition which is dismissed and leave to appeal is refused accordngly.
نئی بھرتی پر ہمیشہ سینارٹی میرٹ پر بنائی جاتی ہے۔ جبکہ بعض محکمے سینارٹی ڈیوٹی جائنگ پر بناتے ہیں، جو کہ درست نہیں ہے، میرٹ کے بغیر بنائی جانیوالی سینارٹی میں بہت سارے ملازمین ناانصافی کا شکار ہوجاتے ہیں، جس طرح فیڈرل پبلک سروس کمیشن سینارٹی میرٹ پر بناتا ہے، یہی درست طریقہ کار ہے۔ اگر سینارٹی میرٹ پر نہ بنائی جائے تو پھر سینارٹی عمر کے لحاظ سے بنائی جاتی ہے۔ لیکن جائنگ پر سینارٹی کو کسی بھی طرح قانونی طور پر درست تصور نہیں کیا جاسکتا۔
عدالتِ عظمٰی کے اِس فیصلہ کے مطابق ایک ہی بیچ میں بھرتی ہونیوالے دو یا دو سے زیادہ ملازمین میں سینئر وہ ہوگا جو عمر میں دوسرے سے بڑا ہوگا۔ یعنی یہ نہیں ہے کہ ایک بیج میں بھرتی ہونیوالوں وہ سینئر ہونگے جو پہلے محکمے کو جائن کریں گے۔ لہذا جن جن محکموں میں نئی بھرتی پر ۔ سینارٹی میرٹ پر نہ بنائی گئی ہو، وہاں پر ایک بیج میں بھرتی ہونیوالوں میں وہی سینئر ہوگا جو عمر میں بڑا ہوگا۔
سپریم کورٹ آف پاکستان کے اِس واضع فیصلے کی روشنی میں جن لوگوں کی سینارٹی ڈیوٹی جائنگ پر بنی ہے وہ غلط ہے، وہ لوگ اپنی سینارٹی کیلئے اس فیصلے کی روشنی میں اپیل کرسکتے ہیں۔