Court Orders / Judgments / Circular etc
Government of Balochistan

Court Orders/Judgments by Balochistan High Court Quetta

Chellegange of Charge of Junior Officers BS-17 as District Educations Officers in Balochistan High Court

:: BHC C.P. No. 865/2014 Taj Muhammad JVT Govt. Primary School Hazara, Loralai VS Secy. Education & Abdul Ghaffar Kuderzai BS-17 Junior Officer (Next date of Hearing fixed after three week) Last date of hearing 04-11-2015
OFFICE MEMURANDUMs / Notifications
.
Chellegange of Charge of Junior Officers BS-17 as District Educations Officers in Balochistan High Court
::

BHC C.P. No. 865/2014 Taj Muhammad JVT Govt. Primary School Hazara, Loralai VS
Secy. Education & Abdul Ghaffar Kuderzai BS-17 Junior Officer & others
Last date of hearing 04-11-2015
Hearing on 04-11-2015 ::

Districts Kech, Kalat and Kharan, the charge of the DEOs (District Education Officer) have been assigned to the Junior officers which is clear violation of the order passed by the this Court on 11-06-2012 in C.P No. 429 of 2012. The Secretary conceded to the above fact and stated that due to shortage of senior, qualified and competent officers, some notifications were issued.
The Secretary was confronted with the judgment/order on the issue and is once again directed to immediately rectify the posting of Junior Officers upon senior posts and to submit copies of notifications in this behalf on the next date of hearing. We expect that the Chief Minister Balochistan will take personal interest int he matter and would ensure supremacy of the rule and law as it should be allowed by everyone as no one is above the law.
Copy of this order be sent to the Chief Secretary, the Principal Secretary to the Chief Minister and the Secretary Education for complaince. (Adjourned to be fixed after three weeks).
Special thanks to Mr. Abdul Razzique for providing this court order & update to us for court proceedings.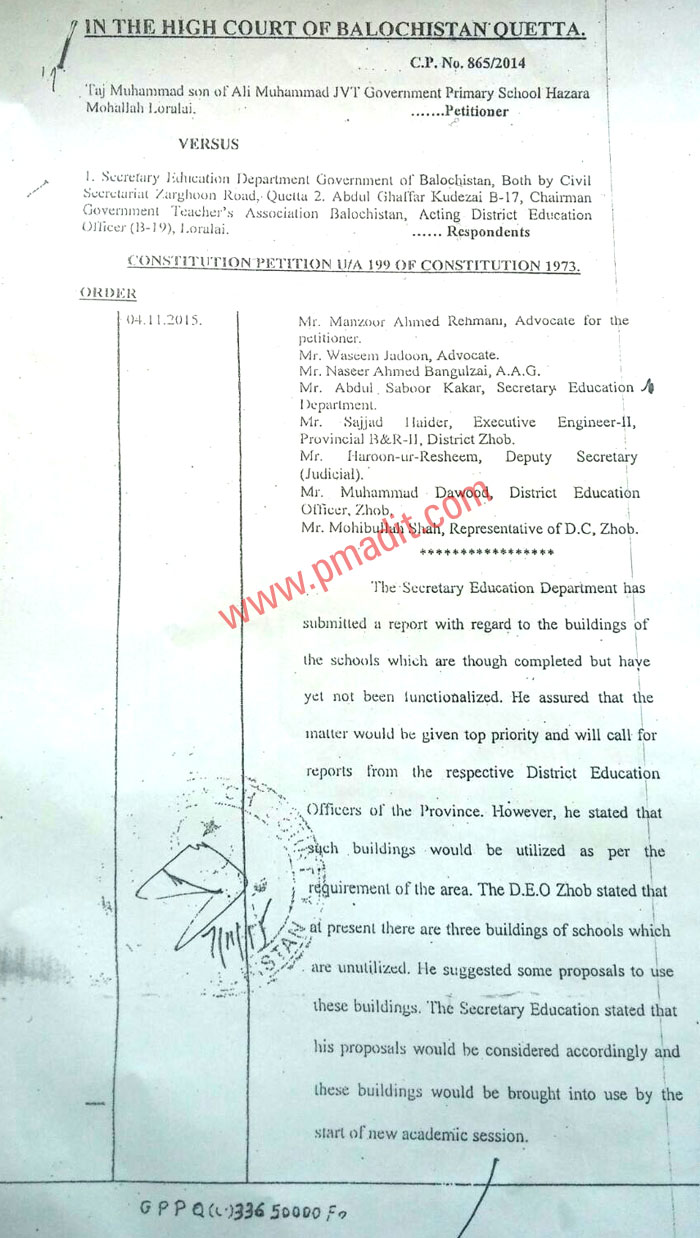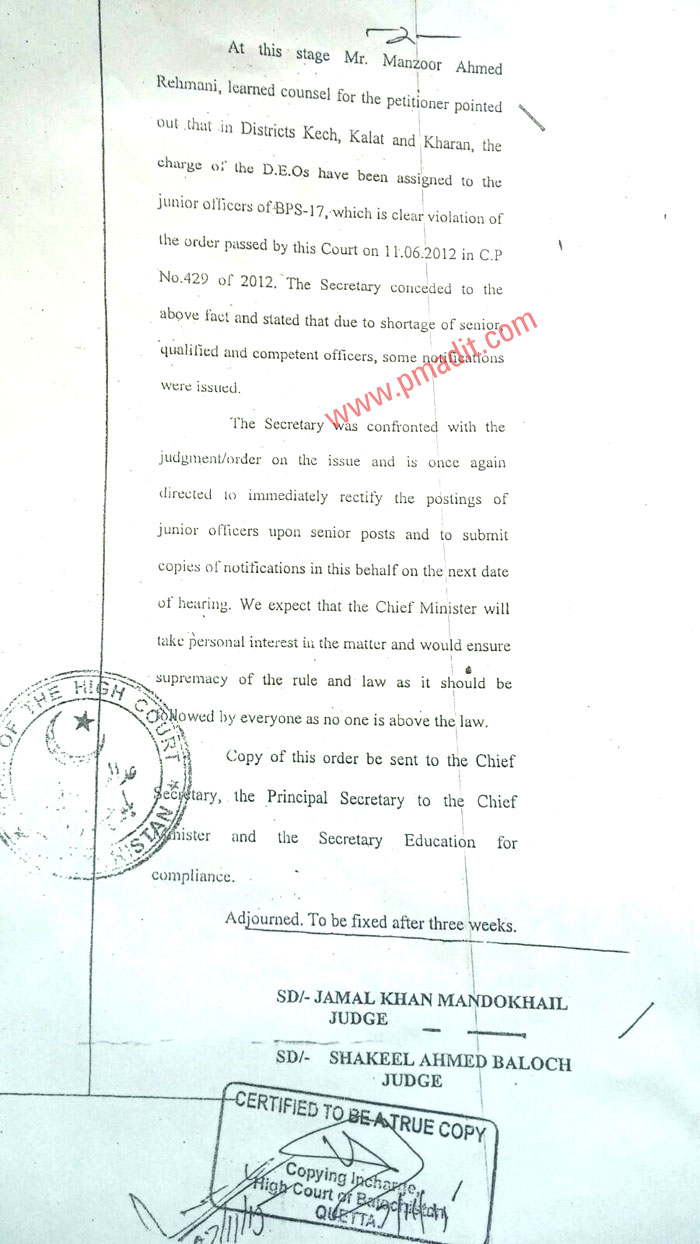 .
Related Links

Federal Goverment Notification/O.M. for Grant of Adhoc Relief Allowance - 2013 @ 10% of Basic Pay


Punjab Goverment Notification/O.M. for Grant of Adhoc Relief Allowance - 2013 @ 10% of Basic Pay


Khyber Pakhtunkhawa Goverment Notification/O.M. for Grant of Adhoc Relief Allowance - 2013 @ 15% of Basic Pay


Sindh Goverment Notification/O.M. for Grant of Adhoc Relief Allowance - 2013 @ 15% & 10% of Basic Pay